Each month, you'll hear from one of us what we're reading and a little bit about the book. Enjoy!
Saying no is really hard sometimes. Especially when I want to say yes. Especially when the request makes all the sense in the world. The cause is worthy. The good feelings with saying yes initially are on the horizon. Yes is the easy answer—in the moment. But, I know that I either don't have time for adding one more thing to my plate, or I know I won't be the best person for the job, or the good feelings of saying yes now will quickly be followed by the regret later. Please, please tell me you've been there, too.
Lysa TerKeurst's book The Best Yes, I believe, is out in the marketplace just in the nick of time. This book is all about helping you make wise decisions when there is a seemingly endless pile of demands stacking up.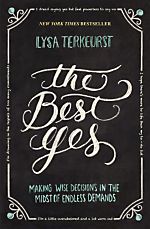 This book is for you if:
You are drowning in your to-do list.

You feel powerless (or simply don't know how) to say no.

You are worn out from the many commitments you have agreed to.

You long for a system to help you know when to say yes and when to say no.

You feel like other people's requests are dictating all the decisions you are making.

You don't have any time to do the things that make your soul happy and you certainly don't have time to rest.
Okay, now I know at least one of those resonates with you. Do you see why you need to read this book?
Lysa TerKeurst is a master at weaving story, memorable statements that will stick with you, as well as super helpful tools that will aid you in making that best yes decision.
Here are a few of my favorite statements from the book:
The decisions you make determine the schedule you keep. The schedule you keep determines the life you live. And how you live your life determines how you spend your soul.

Never is a woman so fulfilled as when she chooses to underwhelm her schedule so she can let God overwhelm her soul.
My imperfections will never override God's promises. God's promises are not dependent on my ability to always choose well, but rather on His ability to use well.

Saying yes all the time won't make me Wonder Woman. It will make me a worn-out woman.
So free yourself today to say no. Lysa will help teach you ways to do it. And then watch what happens when you have more margin in your life to not only hear from God, but also do the things that you were made to do.
Amy Lowe is the Manager for Adult Ministry Publishing. She lives in the Nashville area with her husband, Matt, and her kids, Claire and Jack.