Update: Congrats to our winner: Margie Snyder! 
As you may know, this week we celebrated God's faithfulness in 20 years of ministry partnership with Beth Moore. Twenty years ago, we published her Bible study, A Woman's Heart. Beth recently called it the ugliest cover design she ever loved.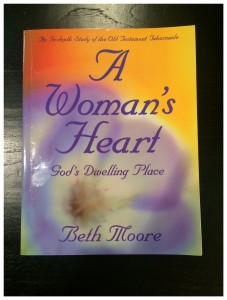 It may not have been the prettiest cover, but the study spoke to women around the world. We eventually updated the study (and the cover) so that a new group of women could hear the message of God's desire to be with His children.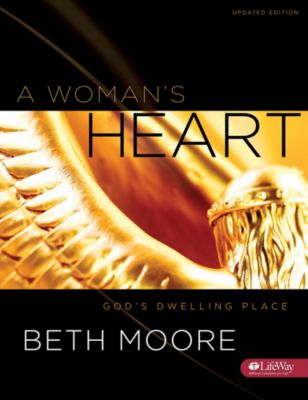 In honor of the 20th anniversary of ministry partnership with Beth Moore, we wanted to give away a copy of her very first study with us. We'll give you the new one, so don't worry about trying to love that ugly cover. 🙂
A Woman's Heart: God's Dwelling Place by Beth Moore
Perhaps no Old Testament event so dramatically illustrates God's persistent desire to relate to His children as the building of the tabernacle in the wilderness. Through the tabernacle God initiated a deeper relationship with His Chosen People by bringing reconciliation and revealing His glory. And certainly, no Old Testament event so richly prefigures the coming of the true Tabernacle, Jesus Christ. In this 10-week in-depth Bible study you will be challenged to prepare your heart, like the holy of holies, to become a home for His love and glory — a dwelling place for the Most High God.
Click here to read samples and see a clip from the video sessions.
A Woman's Heart Leader Kit includes:
6 DVDs (11 teaching segments plus bonus content)
1 Member Book
1 Leader Guide
A DVD Promo Video
To enter to win this Leader Kit, tell us where you were 20 years ago. Were you in college? high school? preschool? Maybe you had preschoolers or teenagers yourself. Let us know in the comments for a chance to win!
By entering today's giveaway, you acknowledge Lifeway Christian Resource's official promotion rules. Today's giveaway starts at the posting time of this blog and ends next Monday (02/15/2015) at noon (12:00pm) CST. You must be 18 to enter, and you may only enter once. The winner/s will be selected at random. For questions about the rules and regulations of this giveaway, please contact Larissa Roach at One Lifeway Plaza, Nashville, TN 37234-140.